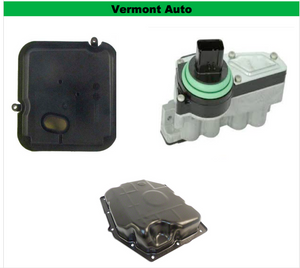 Vermont Auto
Dodge Jeep 42RLE solenoid block filter
Pan Dakota Wrangler
Includes New Mopar Solenoid block with Gasket.
Many of these pans are corroded and should be replaced
especially in snow country

The pan should be sealed with:

Permatex® Ultra Grey® Rigid High-Torque RTV Silicone Gasket Maker
Will include Pan Gasket at no Charge if you prefer, But the silicone works better.
Just put a note in order to include pan gasket.

Fits:
| | | | | |
| --- | --- | --- | --- | --- |
| 300 SERIES | 05 | 4 SP RWD | V6 2.7L/3.5L | 42RLE |
| | | | | |
| --- | --- | --- | --- | --- |
| 300 SERIES | 06-08 | 4 SP RWD | V6 2.7L/3.5L | 42RLE |
| | | | | |
| --- | --- | --- | --- | --- |
| CHALLENGER | 09 | 4 SP RWD | V6 3.5L | 42RLE |
| | | | | |
| --- | --- | --- | --- | --- |
| CHARGER | 06-08 | 4 SP RWD | V6 2.7L 3.5L | 42RLE |
| | | | | |
| --- | --- | --- | --- | --- |
| DURANGO | 04-08 | 4 SP RWD/4X4 | V6 3.7L | 42RLE |
| | | | | |
| --- | --- | --- | --- | --- |
| MAGNUM | 05 | 4 SP RWD | V6 2.7L/3.5L | 42RLE |
| | | | | |
| --- | --- | --- | --- | --- |
| MAGNUM | 06-08 | 4 SP RWD | V6 2.7L/3.5L | 42RLE |
| | | | | |
| --- | --- | --- | --- | --- |
| NITRO | 07-08 | 4 SP RWD/4X4 | V6 3.7L | 42RLE |
| | | | | |
| --- | --- | --- | --- | --- |
| PICKUP/DAKOTA | 04-08 | 4 SP RWD/4X4 | V6 3.7L | 42RLE |
| | | | | |
| --- | --- | --- | --- | --- |
| PICKUP/RAM 1500 | 08 | 4 SP RWD 4X4 | V6 3.7L | 42RLE |
| | | | | |
| --- | --- | --- | --- | --- |
|                  WRANGLER | 03-08 | 4 SP RWD/4X4 | L4 2.4L L6 3.8L/4.0L | 42RLE |