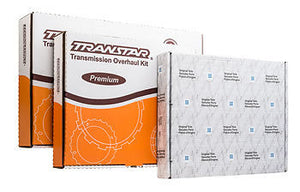 When you see a transmission rebuilder kit
 with Transtar's name on it, you can be sure you're

purchasing

the best kit on the market.
USE THE SAME  KIT AS PROFESSION TRANSMISSION REBUILDERS PREFER

OEM Quality Automatic Transmission Rebuild Kit
Kit Contains;
Paper and Rubber Kit
Metal Clad Seals
Ring Kit
High Performance Red Friction Clutches
High Performance Kolene Steel Plates
Bonded Pistons (As Required)
FILTER

Bushing,Pump(w/Ball Indented Oil Packets 
Transtar Industries
Transtar is committed to quality.  All of Transtar's  kits, whether they are Aftermarket-quality or OE-quality, contain components from industry-leading suppliers. 
In addition, our Rebuild Kits are backed by Transtar's commitment to customer service, knowledgeable sales staff and industry-leading warranty.
Transtar also offers many high performance Rebuild Kits for a variety of street/strip applications. 
Note: We also stock most hard parts for this transmission please contact us if you want to see anything listed.