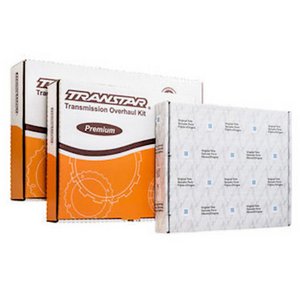 VERMONT AUTO
42RE TRANSMISSION SUPER MASTER REBUILD KIT  2000 - 2004

TRANSTEC OVERHAUL SET
WITH FIBER PAN GASKET

OEM QUALITY FRICTIONS
OEM QUALITY STEELS
KICKDOWN BAND
REVERSE BAND
PUMP BUSHING
GOVERNOR PRESSURE SOLENOID
GOVERNOR PRESSURE SENSOR
FILTER

THIS KIT INCLUDES THE ITEMS THAT SHOULD BE USED FOR EVERY 42RE REBUILD.
I'VE OPERATED A TRANSMISSION SHOP FOR 15 + YEARS AND THIS IS WHAT WE USE ON THIS UNIT

THE GOVERNOR SENSOR AND SOLENOID SCREENS ARE USUALLY CONTAMINATED DURING THE FAILURE
UNIT MUST BE THOROUGHLY CLEANED COOLING LINES FLUSHED TO PREVENT CODES ON START UP.
TRANSTAR ONLY USES THE BEST QUALITY OVERHAUL KITS AND FRICTIONS.